The Company, Murman FishProducts, is situated in Hirtshals, which is a port- and fishing city on the North coast of Denmark.
The main tasks of the company is:
Export of fish species, which are catching by Russian fishing trawls in FAO 27 ( Barentz sea).  The trade is World Wide. All our Russian shipping partners has an MSC, EU and China approval numbers.

Supply of fishing vessels with fishing gears and all kinds of industrial equipments.

Supply vessels with fuel and oilproducts.

Rebuilding projects of fishing vessels. ("Nord Tral" project)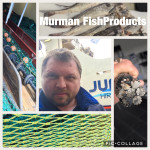 The owner of Murman FishProducts, Sergei Moskalev, was born in Murmansk, one of the biggest fishing ports of Russian Federation, but lives in Denmark for over then 30 years. Sergei was born in the fishing family, educated in fish industry (Murmansk State University) and has a lot of experience in this area for the last 20 years.
If you are a client, expressing specific requests or requirements of any kind, then the Murman FishProducts Quality Concept is the answer – Murman FishProducts is your partner and your troubleshooter!
Here, on the site, you will find all necessary contact information.